Feedback on my PHP 8: What's new and changing presentation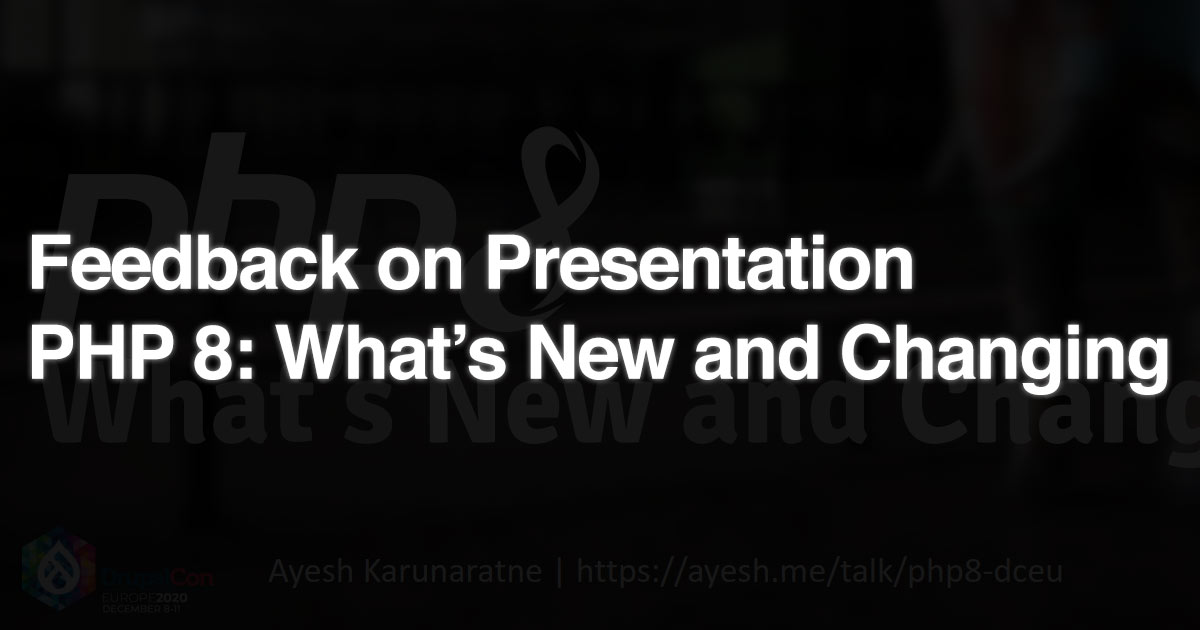 2020 was, to put mildly, a memorable year. It meant that so many of us had to make changes in lives, and that included cancelling physical conferences in favor of online presentations too.
I received an email from DrupalCon Europe 2020 team today that the survey results for the PHP 8: What's new and changing presentation I did last month is now available. It is currently password-protected speakers, but I'm about to share them here, and reflect on them.
---
I'm happy that PHP 8: What's new and changing was the highest-attended presentation in DrupalCon Europe 2020 (apart from Driesnote and keynotes).
The Feedback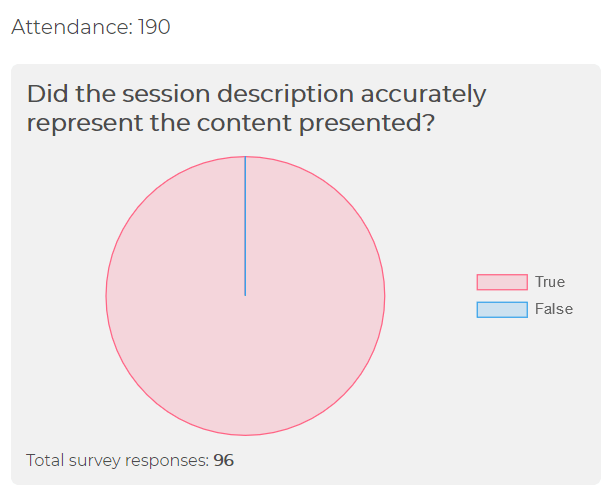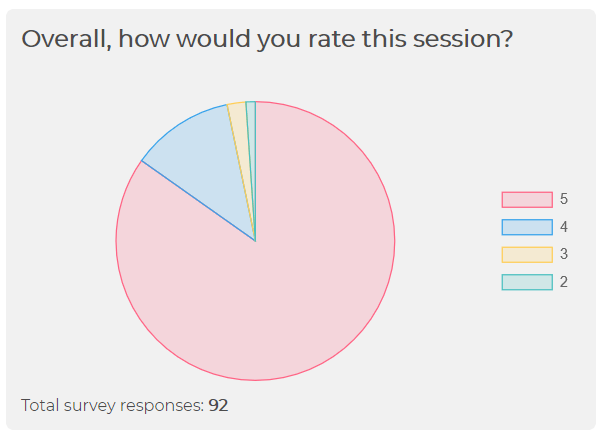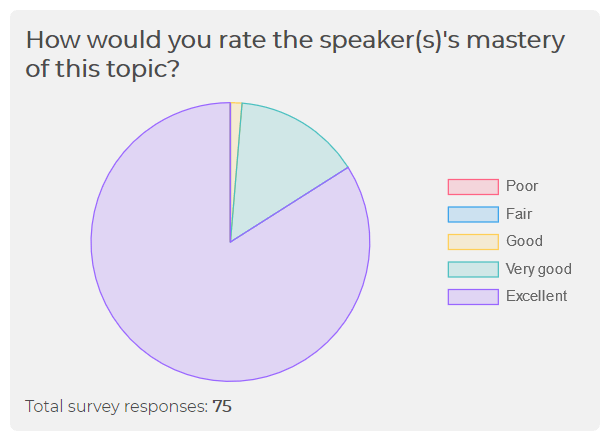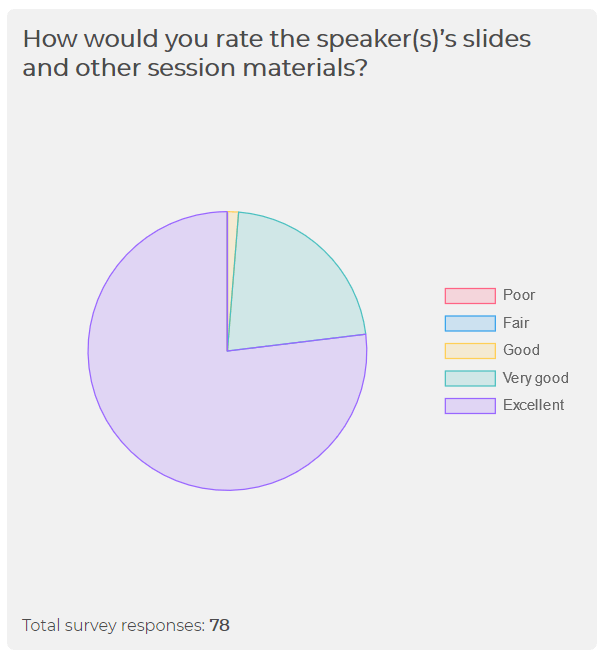 What changes could the speaker(s) have made for you to give it a higher rating?
Been a bit more up on the work that Drupal has done to be PHP 8.0 compatible and also how we've worked with other PHP projects to help drive PHP 8.0 compatibility.
He just very good
It was perfect
Nothing
Nothing, it was perfect.
Presentation technique
Probably explained a bit more about how it would affect Drupal? But honestly there was a lot of good stuff packed into it as is
Sometimes mixed PHP 8 and Drupal 8 ;)
The best presentation so far!
Use a headset with mic as a fair degree of echo/background noise.
Yes
What did the speaker(s) do really well?
Amazing in explination
Clarity, good pacing. Overall great session!
Easy to understand, excellent slides!
Enthusiastically explained everything. Great energy from the speaker.
Excellent presentation of the new things coming in php8
Explained the changes to PHP in an easy to understand way
Explanations
Explanations with examples
Good english, great slides and good examples that made the whole difference I think
Great job! Spoke very clearly.
He really knows his stuff! Very informative!
Nice language, cool presentation and animation, transporting joy
Nice rhyth
Organize contents
Presentation in good time
Showed the important changes coming to PHP8, with plenty of examples and comparisons with PHP7. Really looking forward to upgrading now, thank you!
Slides, explaining in details every new concept.
The presentation and the structure of Contents!
The speaker gave really clear examples.
Topcis, slides (but a couple of typos)
Very clear overview of PHP8.0 changes, with nice examples
Very good, precise and thorough walkthrough on all the major PHP8 changes.
Very good presentation
Very well prepared and enjoyable presentation, thank you!
Well structured, not too fast, good information
Went over the big changes in PHP and how to work with them
Yes
---
All of the responses are copied verbatim from the survey results page.
Thank you so much for attending and taking the survey! It always helps the speaker to measure, improve, and often make their day to read the survey responses. This post might look like me overbearing, but I'm humbly happy to see all the response on what felt like an otherwise slow day.
---
Overall, I couldn't be happier with the response. I was working a better part of the year on PHP.Watch that I spent quite a lot of time writing about the changes in PHP 8, and two weeks of efforts in making the slides and about a week or rehearsals did not go to waste after all!
I realized that a traditional conference presentation is fundamentally different from an online conference. It can be close, but I don't think they share the same momentum, because the body language plays almost no part in a presentation, and lack of immediate feedback from the audience means there is more room for content.
I often go for slide decks with animations to highlight specific code bits, or to indicate a flow of an object. In online conferences, 100% of the attendees focus on their own screens, in appropriate viewing conditions. This allowed me to get a little bit heavier on code snippets, instead of having to worry about the readability of code snippets in often brightly-lit stage and giant overhead screens 10-50m away from the eyes.
Reflecting on DrupalCon Attendees
My first Drupal project was a Drupal 5, and I have used Drupal for almost entirety of Drupal 7's life-time. I see the Drupal community as a group of people always eager for new technologies and constantly on the look for improvements.
Apart from changes in PHP 8, there were other presentations with an incredible response when they are about newer or different technologies in Drupal, such as Solr, Gatsby, or new content editing experiences in Drupal 9 and 10.
I think this is an excellent trend in Drupal community. Drupal 8's adoption rate was slow compared to the growth of Drupal 7, but the session feedback reports of DrupalCon 2020 hints of high interest in what feels like a new chapter for Drupal.
With DrupalCon North America scheduled in a few months, I'll be looking forward to how it shapes the future of Drupal! We used to say Come for the software, stay for the community, and while it holds true, I think the software itself is a good reason to stay as well, because it certainly looks like the community is interested to constantly improve the software too! 💙.